Diane
took a class from Karen Stone last week and posted some wonderful
New York Beauty blocks
. So, I'm inspired to share mine.
It's titled New York Odyssey and I made it in 1999.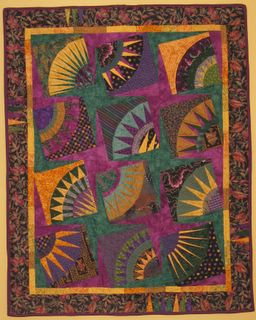 I still just love it. It was a joy to shop for the fabrics and a joy to make. I learned a lot... though not how to make a nice binding and it bulges at the top in the middle. I like paper piecing and I love lots and lots and lots of fabrics.
And then last year, I took two of the orphan blocks from that quilt and made this little item.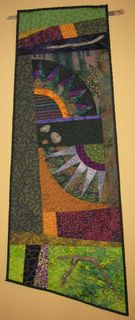 It was displayed at the Art Quilts Maine show last summer and SOLD! It was the first quilt I ever sold. And now that I look at the picture again here, I think... wow, it was really nice. I love the blocks combined with the randoming piecing, the rock and stick embellishments and the quilting. And the wonky shape. All good.
I should send Karen Stone a thank you note. She opened a lot of new doors for me in techniques, and colors and possibilities.