More pictures from our Frayed Edges meeting last week.
Kathy made these wonderful leaf studies with the silk she bought from
Melody
. Click for a larger view so you can see the awesome grid of tiny golden beads on the larger leaf.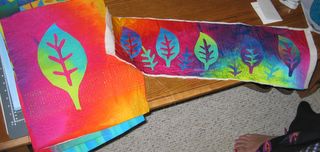 Kathy also made this Lupine quilt which I adore. I am completely enamored of the Maine (and Vermont) lupines in June. She took actual flowers and laid them on the scanner with some of that blue Lonni Rossi fabric over the top. I love the variety of shapes, the repetition, the layout. Everything. And you can't even see the quilting. Kathy is a great quilter!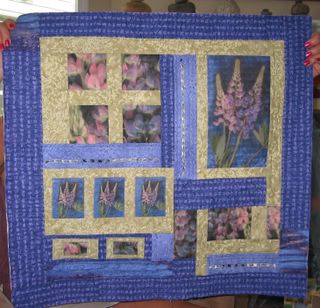 Sarah
made this little gem for the Maine state quilt show special exhibit this year: LoonMaine-ia! We all just loved it. She designed each of these little motifs and is working toward a wonderful line of patterns with a regional flair. Isn't the kayak just charming?!
Of course, we had a fantastic lunch! Kathy brought Italian Chicken Salad. Sarah brought Mango and Pineapple salad with fresh ginger dressing. I bought croissants at the grocery store. And Kate brought Chocolate Toffee bars for dessert.