Kate and I hung our show at the Little Dog Coffee Shop in Brunswick, Maine last week. I think it looks really good. I've finally got some pictures. They were a bit dark and I lightened them in Photoshop, but I think they are a bit grainey. Oh well.
And, of course, if you're going to be in Maine, please give me a call, I'll buy a cuppa and show you the quilts in person. (I'll even let you touch them.) Plus our "meet the artists" even is next Saturday, April 30 from 4 to 6. (I still don't know what I'm going to wear... maybe the super spunky orange linen/denim jacket I bought at Goodwill for 95 cents.)
Do you recognize my arch collages on the pillar in the foreground? Those are Kate's two wonderful brown pieces in the back and my red flowers.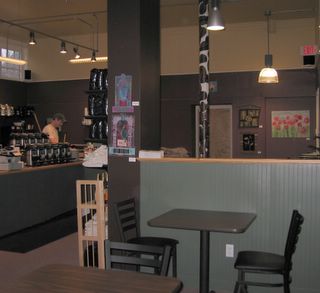 Another view. I didn't crop out the customers so you could get a real feel for the place. Usually it's busier. But I took these pictures just before closing. The quilts above the couches include my two funky pieced pieces, Kathy's wonderful heron,
Sarah
's amazing Brooks and Branches and three of her wonderful journal quilts.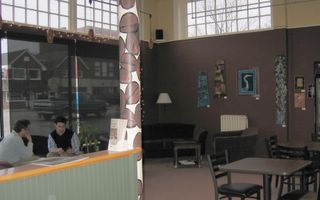 And another view. This is our big gallery wall. I'm not sure if we'll sell anything. But it sure brightens the place up and it's been a good experience. Those short tables in the middle of the shot are the ones they had just brought in from the sidewalk.