It's hot in Texas.
Ok... it wasn't really 129.4 degrees. The thermometer sits in the sun and reads funny. But, it is still measuring
something
and whatever it is, it's HOT.
A few seconds later.
Getting HOTTER.
How about this? Yes, that's 93.2 degrees at 10:41 pm! I think I had to stand on a chair to get this shot.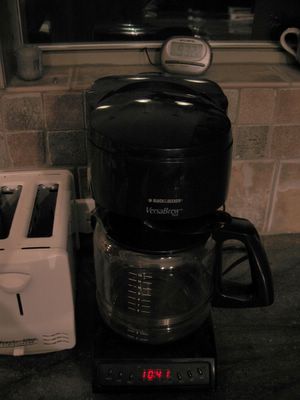 Ridiculous.
Actually, I was nearly overwhelmed in my first few weeks here in TX. Not necessarily by the heat specifically, but by how much people want to talk about it. I can't tell you how often I heard, "Is it hot enough for you?" Um... what exactly should my response be to that?
Eventually, I decided that I would try to avoid using the crutch of complaining about the heat to make small talk or even bring it up in regular conversation unless it realted to something real in my life -- other than just the fact that it's hot. And suddenly it didn't seem like such a big deal. Suddenly it's nearly the end of August and we've survived just fine.
I'm not saying I like it. I'm just saying that our words and intentional thoughts make a difference. Of course, I did just post an entire blog entry about it -- with pictures!