I always think the whole
Self Portrait Tuesday
thing is quite wonderful. I don't regularly participate, too much pressure. This month they are doing photo stories. Here's my contribution. On a Tuesday even. I'm so organized.
Occasionally, I take the time to brew the real deal cappaccino with all the wonderful simple tools I've acquired recently.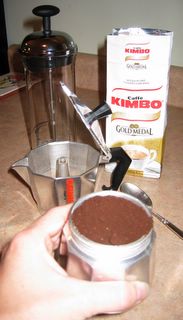 Above: Clockwise from top left,
Bodum
milk frother. (Not to be confused with
Boden
where you can find very cool clothes.) Kimbro espresso grind coffee. Spoon. Bottom half of my
moka
, with water in the bottom and coffee mounded up in the filter portion. Top half of moka.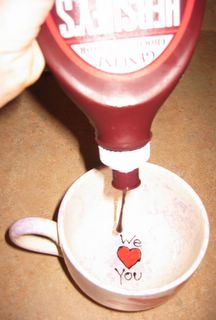 While the moka is on the stove top over medium heat, I prepare the mug with a bit of Hershey's chocolate syrup and some sugar. That's my favorite mug made by my kids for Mothers' Day some years ago.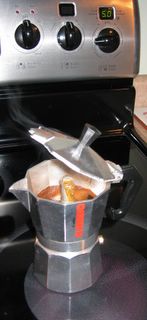 See the espresso bubbling up through the tube in the middle? Deep dark rich!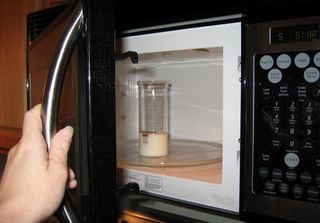 Then I warm the milk in the microwave.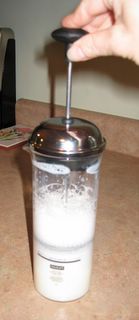 Then I pump the milk full of air and it gets thick and frothy! One time I accidently broke this glass piece. Tragic! I called the
Bodum
800 number and they sent me a replacement quick as a whistle and for a reasonable price. Love good customer service. If you need a French press or a milk frother, buy Bodum.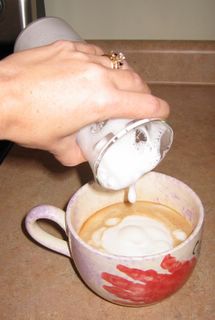 After pouring the espresso over the chocolate and sugar and giving it a quick mix, I dollop the mix and froth on top. Luscious. Can you believe how simple it is? You really don't need the
super expensive machines.

Here's me enjoying my Tuesday Mocha.
Ok, it's not actually me, it's
Tommy
.
Oh and speaking of the wonderful eats and drinks. Check out what
my sister
cooked for their recent camping trip. I am so not a camper, but if I were, I'd take her along as the chef.