The Frayed Edges had a super meeting last week. We had our first round of our book exchange. You remember seeing the artichoke and paint chips collages I made for Sarah's Aphrodisiac Foods book, right? Here are the other pages... stunning!
Sarah
made this beautiful "From the Sea" the sea page for Kathy's book. She free motion quilted a poem around the swirl. "From the mountain top, / Across the seas of time blue, / the ammonite swirls. / It lands on a page / of thread, cloth, glass and friendship. / Growing stitch by stitch.
Kathy made this Nurturing Hands page for Kate's Hands book. Kathy and I are crazy about hand embroidery embellishments.
And Kate made these Peas for my Numbers book. The Green and The Purple! The gold accents, the three D, the subtle number stamps, the real-life green colors!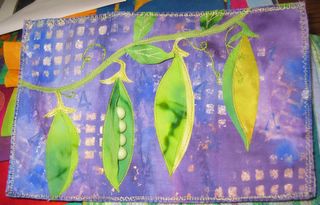 I have Kate's book now. So I have to come up with some Hand ideas before our next meeting on August 19... when we are taking a trip to the World Quilt Expo in Manchester, NH.
We also shared other great quilts and a lovely lunch. More on that later.