My oldest friend is getting ready to have her second child! (She's not my oldest friend in age... but in duration. We've been friends since I was four and she was five!)
She's done lots of reading, study and practice about hypnobirthing and other means of natural childbirth. I had the pleasure of sharing all the details of my wonderful hypnobirthing experience with her. When I recently asked if there was anything I could do... she said she would love to have some kind of fabric icon for visualization and meditation in preparing for childbirth. She was thinking about a 10 cm circle -- the magic measurement of dialation for delivery.
I had a wonderful time making this.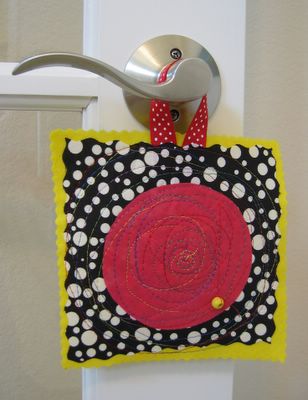 I also love that it's just a graphic little decorative item that will be fun to have in baby's room. I said a bunch of prayers and thought a lot about Benjamin's birth while making it.