It's coming along so well.
This week we met with the builder several times including arranging for the kitchen tile to be ripped up and replaced. You don't really want to know more about that, but I'll say it's working out beautifully.
We also toured the nursery with the landscape designer. Arg. That was a bit overwhelming, but also is going to work out wonderfully, I'm confident.
And the lighting guy...
That's the foyer lantern. (Do you say foy-er? Or Foy-ay?)
We also met with the closet trim guy who was happy to put in any configuration of shelves or bars. Here's my studio closet.
Can't you just see stacks and stacks of fabric? And all my labeled Sterlite boxes? You can see there is a bar in the back. I'm not sure how efficient that will be, but it seems like a closet should have a bar, so it does.
And here is Benjamin's closet. Shelves, tall bar and two short bars.
I think it's kind of lame to post pictures of empty closets. But, I'm one of those people who could stroll the organization aisles of any department store, office supply store, hardware store. And don't even get me started about The Container Store. I know I'm not alone in this interest, so chime in if you find the closets a bit thrilling.
And speaking of Benjamin...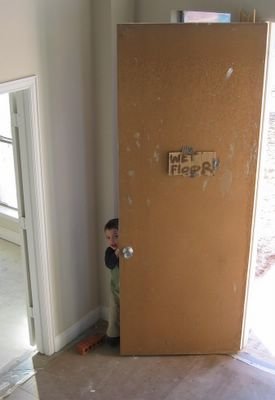 Peek a boo!
The floor wasn't actually wet at that time, but the sign is a bit funny, don't you think?