I had the most delightful day on Saturday. Art Quilts Maine had a "sit and sew" and it was so fun to spend a whole day sewing, chatting with friends and snacking. Another friend and I worked on
Madison
bags from
Amy Butler's
pattern. More on that later. It's almost done. Just have to add the closure.
Then the Frayed Edges went to Starbucks for some decadent coffee, laughing, sharing and gift giving. I have the most creative, thoughtful and generous friends. I am truly blessed. Their gifts are wonderful, but knowing them is the real gift.
Sarah
gave me her favorite Maine gift. From some one who has traveled all over and moved often (as I have), she understands how special it is to have specific things that are reminders of a certain time and a certain place.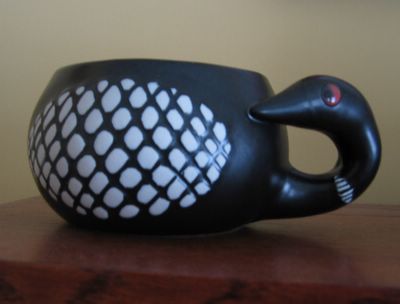 It's a beautifully designed loon mug especially for chowdah -- or maybe chili, since I'll be taking it to Texas with me. I just love the charming and sophisticated style. A treasure!
Kathy
made me this wonderful guardian angel! I think I'll need a guardian angel as I begin this new part of my life. She's perfect!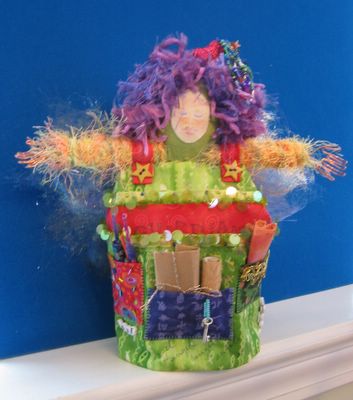 Her wings are angelina, ribbon hair, a fancy beaded hat, beautifully sculpted wire hands and pockets of goodies everywhere.
Here's a close up of a couple of the pockets including a wonderful quote. There are fabric beads in one pocket and a tiny envelope filled with stars in another. Who doesn't need a pocket full of stars?!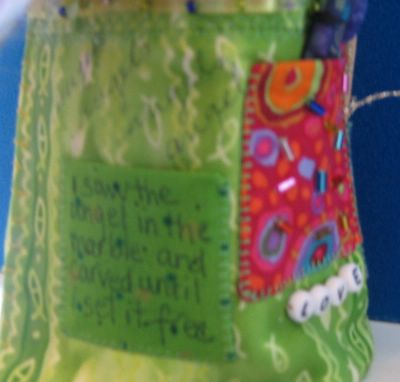 Kathy just started a
blog.
Yeah! And if you think this angel is superfantastic, and I know you do, just wait until you she what else she creates.
Kate gave me charming little wall hanging. She knows my fascination with keys and hit the jackpot at a recent trip to the dump. Seriously, her town is known far and wide for having a great dump.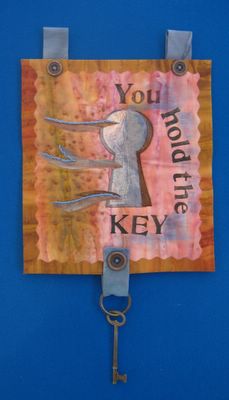 I love the sentiment too. It's similar to the
page
I made for Kate's round robin book. Kate's got a great eye and I love the combo of the fabric, the angelina and all the embellishments. Kate has the most amazing set of rubber letter stamps. Would you believe me if I said they also came from the dump?! They didn't. But she did find them at a flea market.
I'm really going to miss them. But knowing the great joy and inspiration we've shared, I'm eager to find other women with whom I can share my life and art when we move. And I'm completely confident our paths will cross again...