I had a lovely birthday yesterday. I am now 36. I was born in Duluth, Minnesota. Can you imagine how cold it must have been that day? In Maine yesterday it was in the 40s and was out and about with no coat on!
I loved
Lisa's
"list of 38 things about me"
that she posted on her 38th birthday. Maybe I'll keep that in mind for a slow blog day.
In the mean time, I offer you all these pictures!
After I dropped the kids off at school (cue Allelulia chorus for all-to-myself morning!), I made my first stop...
Grande Mocha with a free shot of peppermint flavoring since I got the trivia questions correct. Yum-O!
Then I carefully chose my driving music...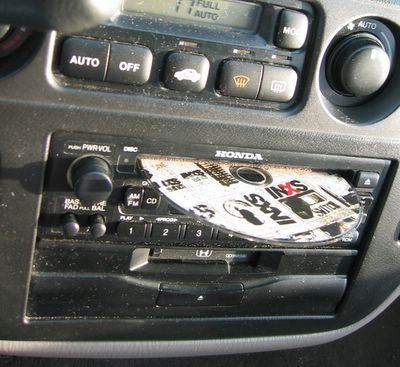 I love me some
JD Fortune
!
My plan was to drive to Wiscasset to go to those two cute shops that I had passed by on my last stop. Since I drop the kids off at 8:40 and it takes less than 30 minutes to get to Wiscasset and those shops do not open until 10, I knew I had some time to spare. When I passed Big Al's Discount Shop (aka junk junk junk and more cheap junk), I knew I could easily fill out my morning there.
You can see here that I could have purchased everything I need for serving breakfast... the bacon rack, the place mat, the bagel holder and, on the bottom shelf, there is even a juicer. It's right next to the .88 cents sign. I passed on all of these.
I could have also purchased "rope by the pound."
Who knew?
The real reason I stopped at Big Al's...
My coffee was a size grande, but my bladder is not.
My only purchases... new hairbrush (I recently left my favorite one at the gym.) and glue sticks.
Then on to Smitten. Isn't this an enchanting name?
Do you recognize the design inspiration for the
"Blue Leaves Reaching"
series?
Smitten was a charming high-end home decor store. Lots of inspiring shapes and colors. I fell in love with a few pieces of jewlery and even asked the name of the designer and then wrote it down on one of Smitten's cards. I can't find it now. I even looked through the trash. I'll be calling them this morning to get the name. Not because I'll be buying any jewlery (several hundred dollars!), but because I want to copy, oops... I mean, be inspired by her designs.
Down the street is Rock, Paper, Scissors. Owned by the same gal with great style, taste and marketing skills.
Rock Paper Scissors is filled with all kinds of doo-dads!
Including beautiful papers. And I just love that hanging decoration on the left. I was feeling a lot of "I could make that."
Just a few purchases...
Pencils made from rolled up foreign newspapers. A frog bank, you put coins in the mouth -- for Benjamin, of course. A pack of scraps. Look out -- paper collages on the way, remember the glue sticks from Big Al's?! And some Res-Q ointment. Because Mom has to come to the rescue for all bumps, bruises, scrapes, etc. I also bought a sand dollar for Claire. It didn't make it in the picture.
And such lovely gifts arrived in the mail too!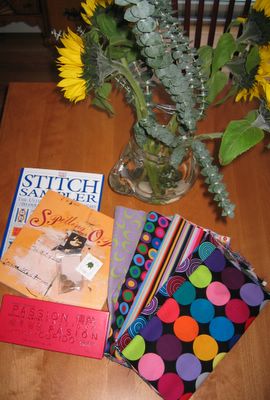 Two books from my Amazon wish list from Lucy.
Stitch Sampler
. I've been doing so much hand embroidery, I need to expand my stitch selection. You can only do so many French knots. And also
Spilling Open
, which I will pour over for weeks. Very inspiring.
Sitting on top of the books are some hand made buttons and a frog charm from my parents. They sent a book also, I'm told. My postman must be enjoying it.
A box of Godiva truffles from my husband! There was another divine gift from my husband which I'll post about later!
Fabric from my sister purchased in the fashion distric in LA.
Joanne
will love these. She's a dot and stripe maniac!
And stunning sun flowers flowers from Kate. Speaking of Kate...
She and her daughter took Benjamin and I out to lunch. I had Black Bean Mango Chicken Soup. It was incredible! And the company was divine!
Quesillas for dinner...
I grilled the chicken on the George Foreman grill the night before, so they were a snap to make up. Jeff is taking me out to dinner tonight. Surely it will be something more exciting than quesillas.
And for dessert...
Claire found a recipe for "Cookies on a Stick" in her kids' cookbook and insisted that this would be the perfect birthday dessert. I said, "Are you sure you don't want to make a box of brownies?" No chance of changing her mind.
Actually, she was right. They were very tasty and such fun to make.
Best gifts of all... smiling children!
Jeff arrived home at 11:59 pm. Seriously, just in time for a big kiss and an enthusiastic Happy Birthday. He is definetely another of the best gifts and I've been blessed to share many birthdays with him.