Here are Jeff and Claire making yummy pie crusts on Thanksgiving.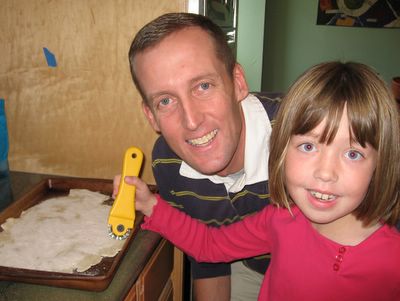 Yes! That is my wavy Fiskers rotary cutter. I gave it up for the good of tradition. As they were making the crusts, Jeff was remembering that Grma Lee cut her strips with a fancy cutter. He was lamenting the fact that we did not have such a cutter. I piped up that I had one. (Should I have kept my mouth shut?) After that I had not choice but to share it. The cinnamon sugar and pie bits seemed to wipe off the blade just fine. But I've hidden it away lest it be pilfered for more kitchen projects.
Here is the calm before the storm in the dining room.
You can see the beautiful collection of journal-sized, Maine-themed quilts on the right. The Frayed Edges sent them to me as a house warming gift and I just love them against that green wall. On the left is the New York Beauty I made many years ago using Karen Stone's patterns. It's one of my favorite quilts. Hanging on it's right is Encrusted Cairn which was pictured in the latest issue of Quilting Arts. And on the left... almosted cropped out of the picture is the door/arch quilt I finished recently. And don't miss sweet Lincoln laying in the sunbeam.
They DO look yummy with those wavy edges, don't you think?
Jeff's parents joined us for Thanksgiving. It was a great day.
We have so much to be thankful for.