My husband took a trip to California recently and brought back lots of wonderful presents for me and the kids. (One of the very few benefits of having daddy travel for work... sigh.)
This fabulous mug with a wonderful sentiment.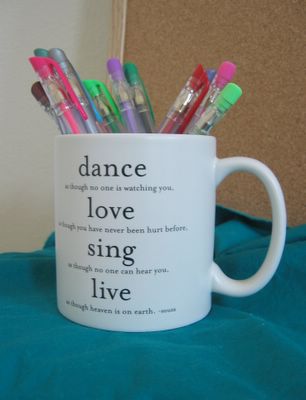 I added the pens for this glamour shot.
He also brought these beautiful chocolates! They are totally handcrafted and delicious. I love that they are so traditional.
It seems there is a big movement toward trendy, contemporary style chocolates with crazy flavor combinations. Not that I would turn those away, but sometimes you just want an old fashioned turtle. Am I right?
Speaking of chocolate, Jeff and I went out to celebrate our 14th wedding anniversary last night. We had so much fun. We went to
Jasper's
, which is billed as gourmet backyard cuisine. There were several items on the menu like you might cook in your own backyard -- except they are "kicked up a notch." Mac and cheese, hamburgers, fries.
Highlights of our meal included the seared tuna appetizer and the masa chicken soup. The soup came in a wide shallow bowl with the chicken, corn, beans and tortilla strips piled in the center, then the waiter poured the rich broth into the bowl and it pooled around all the other stuff. Cool. I always love a bit of a show.
Anyway, back to the chocolate. We ordered a trio of "mini" desserts including a Rocky Road Ice Cream Sandwich, Butterfinger Creme Brulee and Dessert Toast. The others were ok, but the Dessert Toast was quite inspired. (Curiously, I liked it even though it didn't include any chocolate.) The "toast" had a French toast/crepe/pound cake kind of base. On top were candied pecans and carmelized slices of bananas. We were given a little pot of maple syrup to pour over. Yum!
We loved window shopping and people watching after dinner as we walked around the streets. We stopped in
Schakolad
, an excellent chocolate shop and though I had a full belly, Jeff insisted on buying me a few pieces. I chose a dark chocolate and raspberry truffle and a milk chocolate turtle. We also picked out two for the kids. They were so delighted to have something special from mom and dad's date. I remember my mom and dad occasionally bringing home something special when they had a night out. (Often a piece of cake if they'd gone to a wedding, or some candy covered almonds from bridge night.)
Then we came home and watched Firewall with Harrison Ford. A great night!