I can't believe I'm uploading pictures of actual fiber art in actual progress. I'm not sure why it feels weird...
is it because I haven't created in awhile?
is it because I'm not confident in the direction I'm going?
is it because I think they are so marvelous, I don't want to share them until they are further along?
is it because I feel a bit out on my own since I don't have my Frayed Edges to preview (and encourage) my work any more?
Whatever...
These are the beginnings of some door compositions.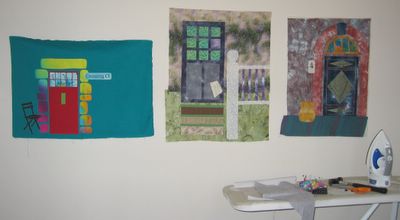 I am going to continue my exploration of using generally simple shapes to represent an obvious setting, but then using each of those shapes as a separate "frame" for an individual embellishment. An old key could go in that top blue keystone.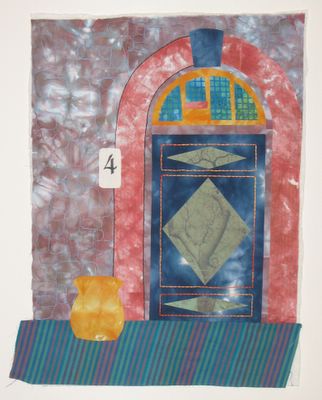 Each of the windows in this door could hold a small three dimensional treasure.
I think one of the steps under the door might become a tiny landscape.
This one is definetely a different color scheme. I love it.
Now I need to just look at them for a few days, then I'll layer in some batting and begin embroidery and fmq.
By the way, if you happen to find yourself in Dallas, my
DOOR
is always open!