I can't believe I forgot to blog about this back in April. When I registered for the Art and Soul retreat, I received a "secret item" to decorate and put on display at the retreat. The Art and Soul organizers have done displays like this for many years. Several of the pieces have been published in Somerset Studio in the past. Since this year's theme was "Paris in My Soul," the secret item was a beret.
I was still in the apartment when I received it. You remember, all I had was embroidery floss and I made good use of it!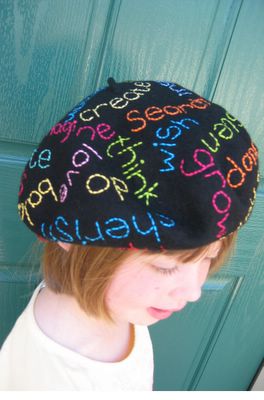 I just kept stitching inspiring words until the hat was all filled up. It was fun. Great for tv watching.
Apparently, I did not take any pictures of all the hats on display. What was I thinking?!
But, I did take the above picture with the cutest model in the world!
Now it's hanging off the corner of my bookshelf in my studio. (More pictures of that soon!)