Today is my mom's birthday! The kids and I will give her a call later today and ask how she spent the day. If she were here, we'd certainly order an ice cream cake! She'll be here this weekend, so we'll have ice cream then, for sure.
This picture was in the Minneapolis newspaper a couple of years ago. It was a "file photo" of Aquatennial. Imagine my mother's surprise when someone sent it to her asking, "Isn't that you?!"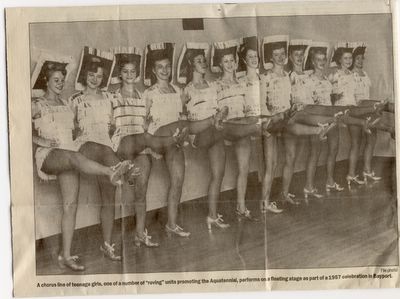 Of course it was! My mom is the second dancer from the left. She spent tons of time dancing when she was a teenager. She taught several after school programs to elementary kids and even put on recitals all by herself with the little dancers. She tells a story of getting on the bus to go buy fabric to make costumes -- all by herself, when she was just a teenager. (The fabric thing is in my blood!)
What's with those crazy, gigantic, fringed table tops on their heads? I can't be sure.
My mom is one of those people who is kind to everyone. She never has a negative word to say about anyone. (Except various villians on reality tv shows. We love to chat about that kind of stuff.) This is a wonderful quality and I hope I've learned to embrace it myself.
She's an amazing mom and grandmother. We're a lucky family. Happy Birthday, Mom!
She's also the weepy type. She'll be crying all over her keyboard when she reads this.