I'd read and heard lots of buzz about a local brownie bakery. There was an article in the
local paper
. A snippet in Better Homes and Gardens! A snappy
website
. But I had yet to seek it out... which is quite surprising since brownies are far and away my favorite food.
Since Mom is visiting and Claire did not have school on Thursday morning, but Benjamin did, it seemed like a girls' morning out adventure.
Simply Divine Brownies make their home in Fort Andross in Brunswick, Maine. It's a big brick building on the Androscoggin River.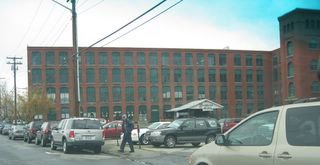 When I called to ask where exactly in the Fort I might find them, the gal replied, we're on the corner of second floor and we have curtains. Well, that was a perfect description. You can probably pick them out above.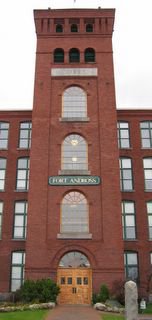 The fort also houses a Thai restaraunt, a few artist studios, antique store, weekend flea market, matress store, shoe repair shop and really cool worn old floors.
I don't know exactly what they used to do or make at the fort, but they scraped up the floors good.
We followed the aroma to the door of the brownie shop. Inside were quaint raised tables, tiled counters tops, pink and red ribbons and ruffles everywhere, huge posters of brownies and three sharp gals wearing matching fuschia sweaters. Someone has a keen eye for style, marketing and attention to detail. They've only been in business just over a year and seem to be busy and growing.
We were the only ones there that morning, but that's probably fine. They are mostly a mail order company and have shipped brownies to almost every state in the US and several foreign countries. They just added the "store front" for local passers-by because they had the space. Why not?! Food Network visited recently and apparently, they'll be on sometime in the new season. Good for them!
There were several choices! Claire chose the
Smore Brownie
. I chose the
Peanut Butter Brownie
and Mom chose the
Peppermint Brownie
. We each took a few bites then passed the plates around. Claire's not a big mint fan, but she tried it because she said, "it makes your breath fresh." I thought they were all spectacular. The peppermint was smooth and rich. It reminded me of the peppermint ice cream that you can only get during the holidays. I loved the peanut butter brownie with a thick fudgy layer of peanutty frosting. The Smore was wonderful too.
Mom also bought six brownies to take home for Dad. We have resisted digging into the bag which we shoved to the back of the frig to avoid the temptation.
We just got the little "cherub" size. About 2 inches square for $2. But they also sell a "bar" size and a "board" size. I think they should have stuck with the B theme and called the small size "bite." But I suppose "cherub" has it's own sweet connotations. And get this: They sell a bag called "Happy Endings" which are the edge pieces and the brownies which don't quite make the cut to be individually packaged. Can you imagine how delish that would be with ice cream and hot fudge?!
Next time I need a chocolate fix, I know where I'll be heading. And I can fall into this divine red couch while I indulge.
Care to join me?