Wow. We really had a fun time tonight at our "meet the artists" event.
I must thank each an every one of you for your comments on my wardrobe. As you can see below, I chose the orange jacket and felt faboo! I think Mel is right about the shoulders. They are a bit weird. Possibly that was the reason for the 95 cent price tag. And I made it to the bead store and bought three chunky beads that I strung on black leather and two coordinating beads which I turned into earrings.
Four Fabulous Frayed Edges!
Sarah debuted her "frayed edges" vest made with Kathy's hand dyed fabric, green fabric Kate brought us from New Mexico and my fabric beads. Kate bought her super funky shirt off the "retro chic" rack at Goodwill and is eager to hear Sonji's review of this choice. Kathy had a bunch of friends and family in attendance so we got to meet her delightful husband, Bruce! And that's me. Kate made those nametags for us... don't we look "professional?"
Frayed Feet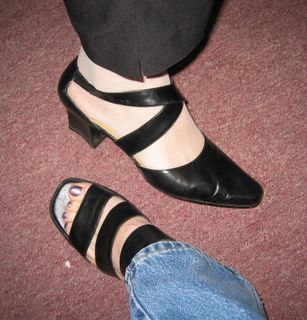 I love me some purple nail polish! Kate went with a little kitten heel. Oh la la!
I think we had between 30 and 40 people stop by. Including lots of kids which was delightful. I sold one of my fiber collages and after clearing up some confusion on the part of the owner about our selling arrangements, he wrote me a check. Yippee!