Well, my birthday is still a few days away and I've already been showered with really awesome gifts! My parents reupped my Quilting Arts subscription. Yeah! Jeff got tickets for him and Claire and me to go see The Lion King in Boston. Yeah! And Lucy sent the Fiberarts 7 Design book from my Amazon wish list (and mentioned in an earlier post).
Yeah! Of course, I love QA. It's so beautifully published and has such wonderful pictures and ideas. My friend Kate thinks it would be fun to start a small art group and experiment with various projects from QA. Great idea. Sometimes I shy away from trying new things simply because I like the stuff I do do and I'm not (yet) bored with it. More on that small art group later... the creative spirit is moving in Maine!
I am so excited to go see The Lion King. I've known for years that it would be a really spectaular production and I would be lucky to see it. It seems like it's really all come together to make it possible. Claire is old enough to appreciate and enjoy it. She's going to flip when she really sees the scope of it. We've been to children's theater together, but that is very small in scale in comparison. Not that there is anything wrong with small... but this will be an EVENT. Plus, we were able to arrange a great situation for Benjamin. Our friends Lisa and Ali are coming to spend the day with him. I hope that it really turns out to be a great day for everyone. And Boston is just 2 hours away, so it's an easy day trip. We're going to the matinee on Sat Jan 29 and we'll be stopping at Carrabba's for dinner on the way home. Yum.
And the Fiberarts book is amazing. I brought it to the quiltathon with our local guild yesterday and it was very interesting to see some gals flip through it. The scope of the design is really amazing. And so many different media and artists. I've just begun to look carefully through it, and I see something new each time. It was super cool to see a piece of
Natasha Kempers-Cullen
. She lives here in Topsham and I've visited her studio.
It was also super cool to see Katharine Cobey's "Throw Caution to the Winds II" (pictured below) which has been flying outside of Maine Fiberarts recently. Imagine, I get to see a really top notch piece of fiber art just because I was on my way over the green bridge. Art is everywhere. I'm not sure I love this piece, but I do think the idea of very public, very accessible art that presents a juxtaposition of materials and ideas is inspiring.
Katharine Cobey, Throw Caution to the Wind II
There were a few pieces I remember seeing at the World Quilt Expo in Manchester. That is a reminder that there really is no comparison to seeing a piece in person. The detail and depth in Jenny Hearn's "Fissures, Fossils and Fragments 4: Red Thread" cannot be appreciated in the 4 inch picture in the book. Here is a picture of it... again you really have to see it in person. It's amazing.
Jenny Hearn, Fissures, Fossils, and Fragments 4: Red Thread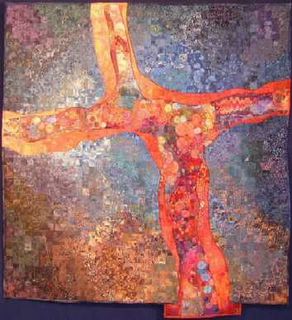 So, I'll be driving through Starbucks on Thursday morning after I drop the kids off at school. A mocha latte, the blessings of these thoughtful gifts and the knowledge that I am richly blessed in so many ways will make it a great day, I'm sure.