Look what I whipped up last week!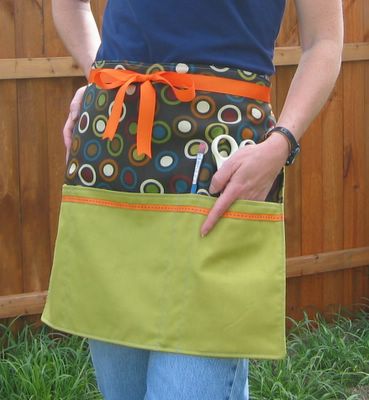 Isn't that brown dotted fabric just divine?! I originally bought it to make a tote bag. And yet... here is an apron. Even better.
It has a few pockets along the bottom for stashing paint brushes, scissors, Snickers bars, and toys which may have been confiscated from children who should not be throwing such things in the house. The tiny orange ribbon trim at the top of the pockets came from
Kathy
in one the little goodie stashes she shared with me. (Thanks, Kathy!)
I love wearing an apron. It's good for wiping my hands on if they are all messy with glue or brownie batter. It makes me feel crafty and domestic and yet spunky and arty.
I could make many many many more of these. So fun and easy. Maybe I could find some cool red, white and blue fabrics and whip one up before the big neighborhood Fourth of July parade. A trip to the fabric store? Yes, please.