I was all alone in my house on Tuesday morning. Perfectamundo! And I got inspired. This sweater kept jumping off the page of a NorthStyle catalog. I didn't want to buy it, but I liked it.
I had been considering going to Goodwill to look for a sweater that I could jazz up in this style, then I remembered this ill-advised purchase.
The dullest most boring off-white cable crew neck sweater. And it doesn't fit well either. (The bathroom is decent though, yes?)
A quick trip to Joann's and I got some ribbon and rectangular shaped "buttons." More on that in the next couple of steps. (I could have raided my stash for ribbon and buttons, but that may have been taking the recycling concept too far.)
I fused a strip of some stabilizer down the front of the sweater inside and out. And sliced.
A cardigan is born.
Then I folded the ribbon in half and sewed it over the cut edges. Yes, I chose orange. It's the new black, you know. And yes, I chose green contrasting thread. Orange and green are the new light blue and brown.
Now, those rectangle buttons. They didn't really have any in the button section. So I thought I'd check out the scrapbooking aisle for some smallish metal tags. Bingo. I'm so innovative.
These have words on them -- "celebrate," "wish," "hope," "dream" and "imagine." And two holes. I just sewed through one hole so they hang and swing around a bit.
And then I had to get out the manual for my sewing machine so I could remember how to do button holes. Not my favorite thing.
Ta da! Snappy, don't you think?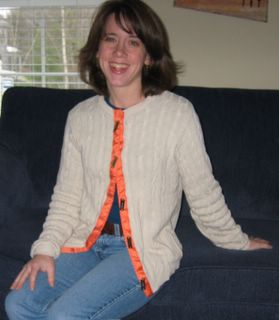 Six year old photographer also wanted a wide shot.
This picture makes me think that orange trim is quite bold. You can see it all the way across the room. That could be a good thing, I suppose. I'm liking this idea of renewing my tired clothes. What will be next?