The Frayed Edges met on Monday. Delightful, as usual! We have completed the final round of our round robin book project. Each of us has made a page or two for each of the other books. What next? We're taking a break to think about whether we want to continue making more pages for this project or start a new collaborative venture.
Do you want to see pictures? (Here they are, though they are not spectacular.)
Kate made this page for Sarah's book on aphrodisiac foods. It says, "My next lover will be a coffee drinker. We will sit together in small coffee bistros sipping our dark nectar and rubbing knees beneath the table. Our romantic dinners will extend with shared cups of decaf. Our lazy mornings will begin with pots of French Roast." Ah...
She was trying to find just the right sparkly items with which to make steam. But none of us could come up with any thing so she'll have to stop by
Cartwrights
. (just like the rest of us.)
And then she came up with this super clever way to sign the back of the page. I love it! (I can imagine a whole series of postcards using this technique.)
Kathy made pages for my numbers book. She did a page with 5 on one side and 6 on the other. I tried one picture with the flash and it made a reflective mess of all the delicious beads and fancy fabric.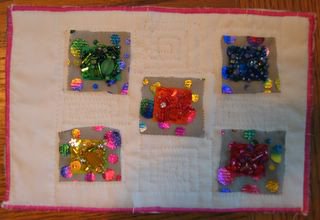 Each of those squares are little beds for a tight cluster of bead soup in green, red, orange, yellow and blue. With that white background it really reminds me of Jan Clark's Beetlewing quilt. (You can see it in
this
post midway down. I couldn't link the individual photo.)
And speaking of beetles, for 6, Kathy continued with her bug projects and made this wonderful guy!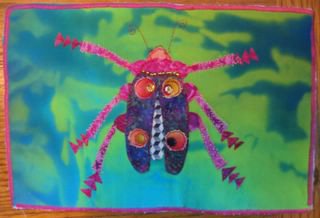 He is also beaded and wonderfully quilted. I love that several of my pages are not obvious depictions of numbers. We're so arty.
Sarah made these pages for Kate's Hand Book. The quote reads, "If evolution really works, how come mothers only have two hands?" Don't you love it!? And isn't it ironic that Sarah placed the coffee pot specifically in her right hand? Not a coincident! We all were especially impressed with the placement of the swirly fabric to give the mother just the right curviness!
She also made this quilt with themes of welcome, love and combining of hearts. You can't see all the wonderful quilting in the background. I really really like this one!
I did pages for Sarah's sea book this round. I was struggling to come up with ideas, so I made lots of lists and sketches in my sketch book trying to settle on an idea. Then I looked at my mess of writing and thought, "Well, that looks kinda cool." So I made a mock sketch book page. It was very fun. I made a pocket for sea glass, tried some different fmq motifs and stitches from my machine. Made a stack of fabrics to consider and stamped some words that fit the theme. It was fun to just keep filling in the spaces.
On the other side, I did a piece similar to my
landscape postcards
. Then I set it on a bigger background that continued the colors but in subtle print fabrics to complement the hand dyeds used in the smaller piece.
Of course, there was more great art and great food. More on that later.