Last week when I was working on the
portrait of the kids
, after it went south, I decided it was time to make the sketch book cover I had planned for my divine
Elin Noble
fabric.
It was so great to set aside a project that was sucking rocks and whip up something wonderful. It was quick, my math was mostly spot on and I adore it.
I bought this dyed fabric from Elin Nobel at the
Maine State Quilt Show
in July. (and paid a pretty penny!) I knew I wanted to use it in some fashion that I could really continue to enjoy. Not cut it up for a quilt. Not fold it away and fondle it occasionally. After making those small
notebook covers
, I decided that a larger sketch book cover would be the perfect use. Plus, a real artist makes lots of notes and sketches, right? Maybe I'll be inspired to do that more too.
Check it out.
Here's the inside. It holds a 9x12 sketch book. The key is that you can swap the sketch book out when it's filled. It slides in a deep pocket in the back and the cover -- strengthened with a piece of cereal box -- folds over. Yes, I added a pocket for business cards, receipts, post cards, pictures, dry leaves....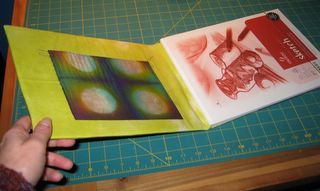 I think even the back looks marvy! I knew it needed some method of closure and I came up with tacking a piece of gold stretchy cord on the back. Ingenious. Who knew I was so clever? You can see it wrapped around the closed cover on the top picture.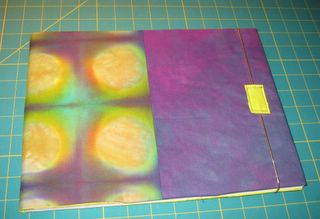 Now... all is well, but wouldn't it be great to jazz it up a bit? How about sequins? So, I ordered from
Cartwright's
. Look at this little pile of sparkly treasures. I'm not sure exactly how I'm going to arrange them. I know I'll need to sew them down extra tight so they don't pop off while being stuffed in and out of my bag. But, since I'm hoping to rent and watch all of the episodes of the first season of Lost, I should have plenty of time to figure it out.