Art Quilts Maine met last weekend. It's a great guild. There were about 30 gals there from all over the state. It was a potluck lunch. Yum... you know that broccoli, raisin and bacon salad that always shows up at potlucks? It sure is good -- in a very strange sort of way.
We always do a workshop in the morning, then lunch, then a business meeting (yawn) then show and tell.
Last week we did self-portraits ala Yvonne Porcella in the
Summer 2005 issue of Quilting Arts
. (I know you've seen it.)
Look at our great results. Everyone seemed to have big fun.
I especially love the portraits that Kate did of her kids. She doubted that she would be able to really capture their spirits. But she totally did!
I also planned to do a portrait of my kids. Though I intended to copy a picture trying to do it somewhat realistically. Here's the portrait I worked from.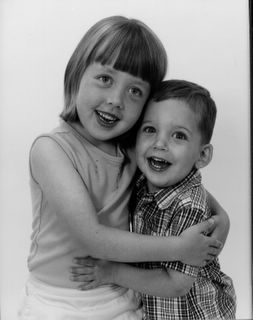 Aren't they just the cutest little monkeys ever?!
And here's what I came up with after a couple of hours at the guild meeting and then a bit more fine tuning.
I am very pleased with it. I love the monochromatic color scheme, I think she lines and shapes are mostly quite nice and I think it even looks like Claire and Benjamin without additional features. But I wanted to do their faces in the same style -- fusing tiny shapes.
I had Thursday morning all to myself and barracaded myself in my studio to work (which is actually play!).
Unfortunately, this is what I came up with.
A three year old drag queen. Luckily I did not fuse these atrocities to Benjamin's face. At that point I set the whole quilt aside and began working on a sketch pad cover which was a huge success. I'll tell you more about that later.
So, what should I do? Just quilt the facial features? Hand quilt? Free motion quilt? Paint or drawn in the details? With Pigma Pens? Give up?