I was delighted to spend the day with the Frayed Edges on Monday. We met only three weeks before, so not much new work was shown...
other than this little treasure from Kathy. I suggested she enter a piece in Fine Focus and then said if she was going to enter one, she might as well make some new art to enter also. (Three slides for the price of one entry.) So she made this. Love the rocks! Yes, they are real. The photographs are her own. She has such an amazing sense of texture and design.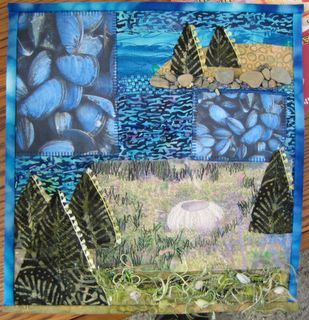 One of the best things about our little group is the collaboration. Kate had pieced the body of the quilt below and wanted suggestions for finishing. We auditioned several designs and fabrics. We made some pouty, growling noises like hungry wild animals. And also some squealing, excited noises like little girls discovering new glitter pens.
The end results were fantastic. I'll wait for a completed quilt from Kate to share it with you. (And we can see if she really liked what we ended up with.)
Baked Potato Soup, Nutmeg Muffins, Salad with Cranberries and Bleu Cheese and...
Fruit Tart for the birthday girl!
Don't assume that the number of candles mean anything at all. Three year olds like to "help" arrange candles. Have you heard of the tradition about everyone putting a ring over the candle so they may share in the wish-making? We hadn't... but we love it now!
(I must have pushed the blurry button on the menu of the new digital camera.)
After lunch we ...
fused some of the fabric Kate bleached with Velda Newman and took inspiration from
this book.
It was so fun to just gather around the ironing board and create together. Kate will be using these as inspiration for the workshop she is doing for the local
GLSEN
Youth Arts Day. She is hoping that these and other artwork created in the workshop will eventually be used to raise funds to support
Maine Won't Discriminate
and other equal rights organizations.
So for all you artists who occasionally pose the question on your blogs about finding a small group of artists to connect with, I say... make it happen. Start small. Be open to sharing your art, your thoughts, your ideas. Put the word out. Make something good to eat. Enjoy.