More from Frayed Edges...
Check out this amazing bug that Kathy is working on. She's anxious about using a contrasting thread for the free motion quilting in the wide white border. She's thinking white on white. We all told her she was way good enough to use blue or green or whatever...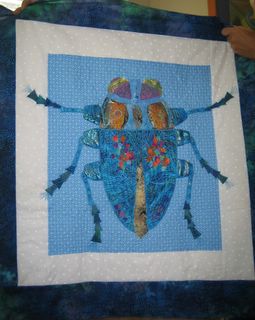 And check out the green angelina getting ready to be sewn on the purple eye balls! Superfantastic!
You may recognize the techniques and style of the bug from
Susan Carlson's recent work
. But this one is all Kathy's!
Can you even believe how snappy this apron is?!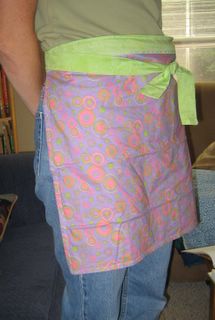 It's the green and the purple! Kathy made it for me and I adore it. I even want to wear it to the bus stop to meet Claire when she comes home from school. Does that make me a real housewife?
Ah... the much discussed map.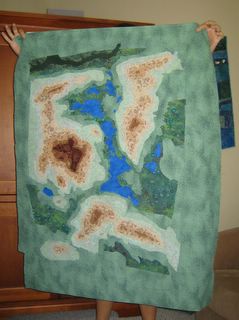 All that green background border will be cropped. We think it looks just amazing and more importantly, the person who commissioned it is pleased.
I believe it's based on the
Merrymeeting Bay
. Kate will surely let me know if I'm mistaken.
Here's a detail of the elevation gradations.
Kate has decided to quilt the contour lines which, of course, it the best choice. She's also going to couch some fiber for roads, but there will be no actual names of places on the quilt. If you know and love the place, you don't need to have the names there.
And then we had lunch... I'm drooling again just thinking about it.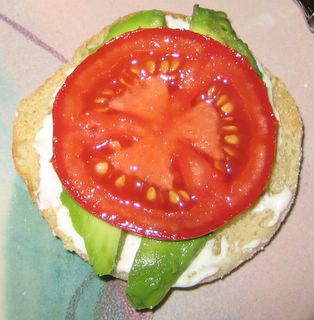 Toasted English muffin, good ranch dressing (meaing not the fat-free Kraft kind), avocados and picked-that-morning tomatos. We also had rich sourdough bread with herbed butter. You can't have too much bread.
Kate also shared all of the sample pieces she did in Velda Newman's class. We all agreed this folded, wrapped and bleached item was the most magnificent. In fact, I saw Kate again yesterday and she showed me several more folded, wrapped and bleached masterpieces. What will she do with them?! We agreed that the rough, frayed, bleachy edges have great potential. Exposed seams?
Sarah shared her lovely journal pieces which you will have to scout out at
Houston
or see on her
website
in November. She also brought a treasure trove of beads and sequins recently purchased from
here
. I am warning you, if you are a bead-aholic, you should slowly step away from the computer and forget I ever mentioned this. I wish I would have taken a picture of the sparkly pile. Sarah, you must take a picture and post it on your
blog
.
As many of you have commented, I am incredibly lucky to have such a wonderful small art quilt group with whom to share art, food and life. I will miss them tremendously when I move to Texas.