I've enjoyed reading
Claudine Hellmuth's blog
lately... and, of course, being inspired by her books. I'm definetely not a paper-type artist. I think I'll always go back to fabric, but her recent challenge for readers to participate in her upcoming podcast was too much to resist. Plus, I needed some creative time after the whole moving experience.
Claudine has a few podcasts on her blog. Her husband gives her a theme and 20 minutes to create a collage. They record the whole thing and edit it into a short podcast where you can hear her thought process and then you can go to her archives to see the art that results. She was originally inspired by the challenges and time restraints on Project Runway.
For her current installment, the theme was "hurt." Grumble. I'm so not interesting in exploring the broken heart, isolated, lonely, wounded theme at the moment, but I let it simmer for several days. And then I gathered what materials I had...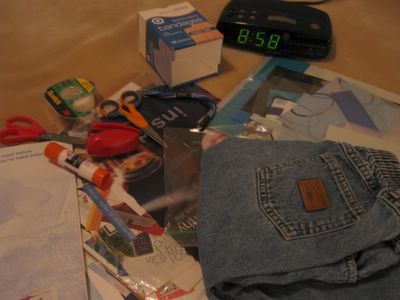 I didn't bring too many supplies for our temporary time in this apartment. But, I was inspired by the jeans that Benjamin had just outgrown (and worn out). This brought to mind skinned knees and patched up clothes... maybe patched up hearts... or broken promises. I had band aids in our little medicine box and I thought that might be interesting. So I took the above picture at 8:58 pm as you can see. I actually started creating at 8:59 pm... which would leave me until 9:19 pm if I were to stick to the 20 minute limit.
Here's where I was at 9:19 pm...
Most of the idea was formed, but not completed.
I took ten more minutes to finish my stitching -- gotta go with the fiber! You can see I rejected the "broken heart" in the upper left. I thought about using the stapler, but I couldn't shove enough of the piece into the little stapler to do anything interesting.
And here is a scan of my final piece titled, "can it be patched."
The 20 minute limit made me feel both energized and a bit wacky. I can see how taking 20 minutes to "warm up" at the start of some studio time could be really helpful. It can definetely draw out some ideas or themes or even just colors and shapes that might not have been originally explored.
You can see all the collages that were submitted to Claudine's challenge
here
. You'll see fellow Frayed Edge and blogger,
Kathy
and another Frayed Edge Kate.