About the only time I piece "traditional" quilts is when my friends have babies. What better reason?!
I brought all the fabrics and my rotary cutter to the last Art Quilts Maine "sit and sew." It was a great project for a day of cutting, sewing, chatting, eatting and generally feeling no pressure.
But then I had all those blocks and I actually had to piece them together.
This is for Baby Louisa who has moved to Washington state and I've not met yet. It's also for big sister Caroline. A celebration gift for sisterhood! It's just the right size to put over a stroller, or cover a dolly bed or lay upon when one is having one's diaper changed.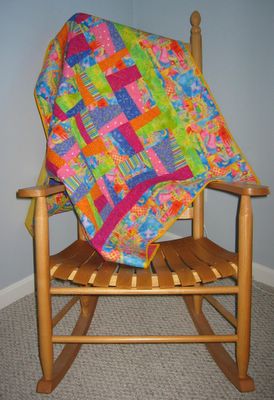 And this is for Baby Hannah who is coming home from China today! I've been friends with mother Shannan since college and we've shared so much of our lives together. I was thrilled to make this quilt to honor that long friendship and the blessing of a long-awaited daughter. As Shannan said, "We didn't have an 'easy button.'"
Here's the back of the larger quilt. I was determined not to buy any more fabric and was able to piece together these wonky stripes.
The blocks are from
Jan Mullen's Cut-Loose Quilts
. This book is always inspiring. I've come back to it many times and it always gives me a new idea. I see you can get it used for ten bucks on Amazon.
The next Art Quilts Maine "sit and sew" is next weekend. What will I work on then?