The Frayed Edges (my small art quilt group) met on Monday. We had such a great day. You remember we started a fiber book round robin? Here are the lastest updates. They are all superfantastic, of course!
Here are the pages I made for Kate's "Hand Book." I had trouble figuring out what to do, but when I decided to just make pages inspired by the work I've done recently, I came up with this arch -- or shrine.
You can see an older arch
here
.
Then I did a fused piece with
Melody's
fabric and lots of my all-over pattern quilting. Plus words stamped with my rubberstamp alphabet.
And here are the pages that Kathy made for Sarah's "Aphrodisiac Foods" book
I just adore Kathy's way of combining stamping, beading, image transfer and beautiful quilting. The text says, "What do you mean it wasn't an apple?? Oh Eve, you devil!"
Kathy is on a sea kick and she couldn't resist the combination of an aphrodisiac sea creature: mussels.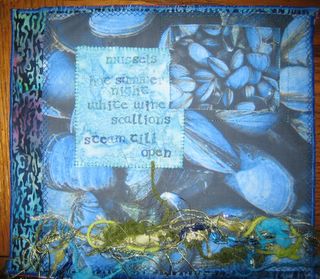 The text reads, "mussels, hot summer night, white wine, scallions, steam till open." Meow! How's that for aphrodisiac?! And isn't that a beautiful picture of the mussels? I'm not sure if Kathy took it herself. And I love the image repeated large and small.
Here is
Sarah's
submisison for my Numbers book. She did facing pages for 7 and 8. This is a wonderful replication of the amazing forest floors she has done for recent quilts. Including the rock under tulle, which of course, I LOVE! Sarah and Kate, you must remind me the name of the flower.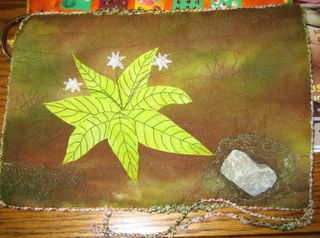 And here is the 8 page all closed up. It's interactive!
And opened up! And eight pointed compass star with all kinds of words for people and places that are important to me.
Here's a close up of the quilting. That's my name. Isn't that cool? And I also wanted you to see the great edge treatment. She used a pink yarn and the checkerboard stitch on her Janome catching the yarn on one side and the edge of the quilt on the other. Very effective!
And here are the pages Kate did for Sarah's Sea book. This picture does not reflect the beautiful calm sense of a sandy beach. It's stunning. Silk and lovely hand stiching plus dainty real shells.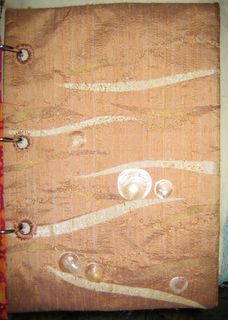 A bit of a better sense with this detail.
And another page from Kate for the sea book -- whimsical flashy fish, totally in Kathy's colors!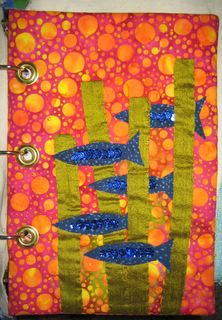 I've got tons more pictures from Frayed Edges I'll post later in the week. Including
Kate's map quilt
and a review of our menu! Stay tuned.