Do you remember that I made postcards for my mom and mother-in-law for Mother's Day? And for my sister's birthday which was around the same time? My sister liked them so much so "commissioned" me to make six for her to give to her friend who is house/dog/cat sitting while she and her husband, my brother-in-law Matt, come to visit us in Maine this week.
I was delighted to do a series. You will see inspiration from
Melody's embroidery
and
Sonji's pods
and
Gerrie's stamping
and my earlier arches. I did a few others along with her six... the first is for a friend newly diagnosed with lung cancer.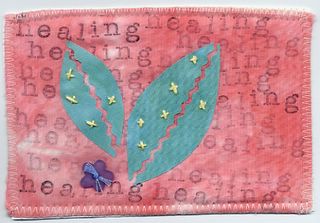 And this "Dream" one went to one of Benjamin's teachers.
And this "inspire" one went to Benjamin's other teacher.
one more
There will be one postcard left over after my sister picks her six. I wonder which I will be left with? I'm eager to do more. They were really fun. Frayed Edge Kathy gave me a bunch of hand dyed fabrics recently... they would make a wonderful postcard series. Oh by the way, all of these were made with the hand-dyeds my Mom did and shared with me!
Oh and while we're on the whole postcards kick, I'll share with you my favorite line from my all time favorite song: Walking on Sunshine by Katrina and the Waves.
"Every time I go to the mailbox, gotta hold myself down.
'Cause I just can't wait 'til you write me you're coming around!"